KEIICHIRO KOYAMA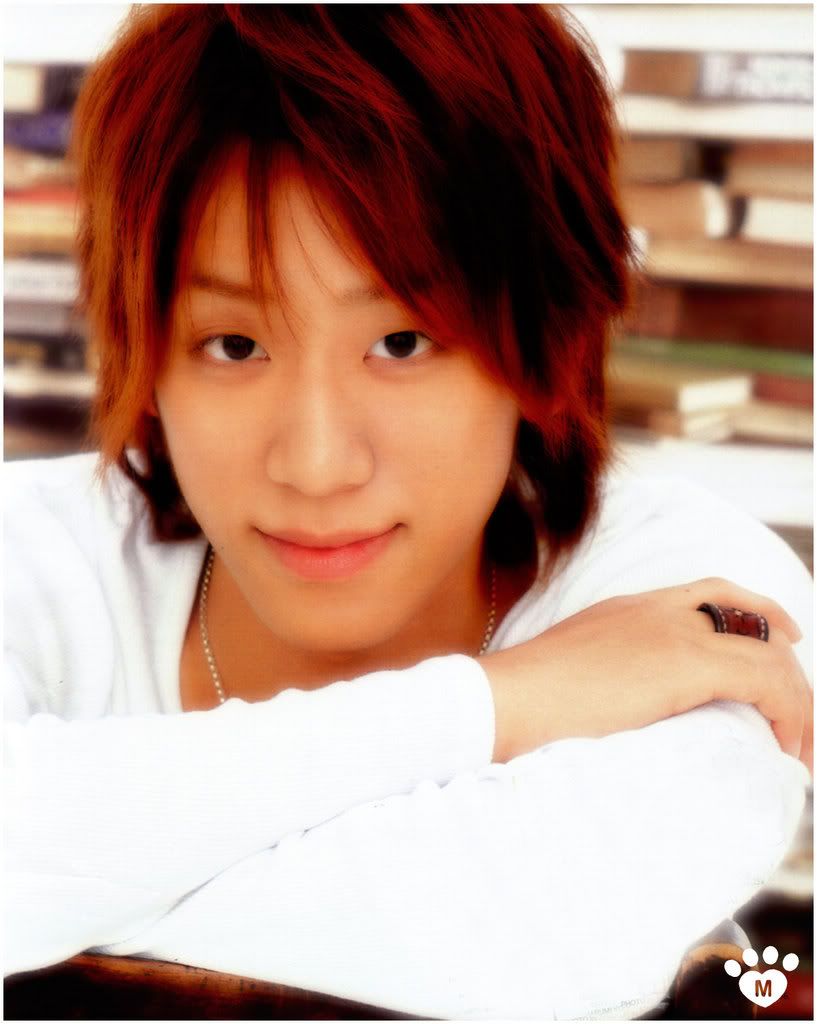 * Name: 小山慶一郎
* Name (romaji): Koyama Keiichiro
* Nicknames: Koyama, Keii or Kei-chan, Koyamacchi
* Profession: Actor / Singer
* Date of Birth: 1984-May-01
* Birthplace: Tokyo
* Height: 177cm
* Weight: 53kg
* Star Sign: Taurus
* Blood Type: O
* Family: Parents, older sister
* JPop Group: BAD, J-support, K.K.Kity, NewS
* Talent Agency: Johnny's Entertainment
* Radio Show: K-chan News (KちゃんNEWS)
TV Shows
* Hana Yome wa Yakudoshi (2006)
* Kurosagi (2006) (episode 2 guest appearance) as Tanabe Satoshi
* Ns' Aoi (2006) as Kitazawa Takeshi
* Kanojo ga Shinjyatta (2004)
SOLOS
* EVERYBODY!
* DANCIN'☆ TO ME
* Romeo
* Love Addiction
* [chirarizumu]
* Aoi Inazuma
K-chan Trivia
1. He has a cat named Nyanta who he always taunts Shige with.(Shige loves cats but is allergic to them)
2. His home is a Ramen Shop that he runs with his mom on his off days.
3. He graduated from Meiji University Majoring in Asian Studies.
4. He is really good in Baseball.
5. He loves Ramen and, iced chocolate and hates tomatoes.
6. He thinks alone time is his most important part of the day. It is the time he uses to reflect on things..
7. He spoils his nephew a lot. He buys him toys and clothes all the time,so that why he is called a "Foolish Uncle".
8. He loves going to the bathhouse.
9. He is Tegoshi's Karaoke partner and they call themselves KOYATEGO!
10. He has the bad habit of not replying to phone calls or e-mails and worries everyone.
11. He is like the responsible big brother Jyannis. He is the respected Senpai by the Juniors. The Juniors usually have him go ahead at the catering table to get food.
12. He enjoys performing in stage plays and looking forward to his role in High School Musical.
13. He does his own laundry and at one point, he mixed a red shirt with his white clothes and he regrettably blogged about it.
14. He is a good speaker. He is often called by Jyannis when changes occur in performances to be the one to announce it.
15. Keii-chan recieved honors from Meiji University during his graduation as one of Japan's Model Youth. He even had posters and flyers around school with it.
16. He visited Uchi in the Hospital when Uchi was hospitalized and encouraged him.
17. He speaks to his best friend, Kato Shigeaki everyday and reminds him to go to sleep.
18.He answers his phone with Konnichiwa or "hai-hai!".
19. He idolizes Nagase and Koichi Domoto.
20.He was a Teacher's Assistant in School.
21. He takes the role of the oldest brother in NEWS making sure everyone is healthy and alright.
22. He is really optomistic. It is his motto in life to never look in at life in a negative manner.
23: He likes girls who wears pigtails.
24. When he is anxious before a concert, his hands would be shaking. Sometimes, he would let Shige or Tegoshi hold them so it would calm down.
25.He wanted to be a pilot when he was younger. And if he wasn't an idol he wanted to work at a convenience store so he can meet a lot of people. He also said he would never be a travel sales agent.
K-chan Downloads and Links


Like a child
by
insane_desire

Translations: (thanks
tinyangl)
-
Koyama's Fact File
-
SC Letters between Koyama and Uchi
-
A Note from Koyama to Oguri Shun
-
Wink Up 04/2007 (About Koyama with NewS)
-
Love Addiction Kanji and Romanji
-
Love Addiction Translation
-
Koyato's Chirarizumu: Kanji and Translation
-
(One) Entry from Koyama's J-Web
-
Koyama's 04.10.2006 (About Yamapi's B-Day)
-
Koyama's Tag under
nbj_jweb
(F-Locked.)
-
Member Ai! Koyama's J-web Translations

DOWNLOADS
Videos:(
love you
tinyangl
-AOI INAZUMA
from
sweetpniangel87
-
[SC] 2003.07.13 KKKity – Sennen no Love Song
-
[Yax3] KKKity – Stand Up
-
[MS] 2002.03 Tsubasa, KKKitty – Medley
-
[SC] 2003.05.06 Koyama Keiichirou & Kato Shigeaki – Yume Monogatari
-
[SC] 2006.06.04 Koyama – Cherish
-
[Clip] Koyama, Yamapi, and Uchi – Cheerleader, Cow, Dance
-
[SC] 2006.12.03 Koyama Keiichiro – Love Addition
-
[SC] Koyama Keiichiro and Kato Shigeaki - Chirarizumu
-
[Yax3] 2007.03.18 NewS – Hoshi wo Mezashite (Koyama, Shige, Tegoshi, Massu)
-
[Yax3] Koyama and Kusano – Answering Machine Skit
-
[TV] 2007.03.13 Koyama Keiichiro – 2jichao (High School Musical)
Marikit ♥
K-chan
Keii-chan.... I don't know how to begin with him. He's a chatter box, an oniiisan a generally nice guy. He is a great friend, a super good son, a doting uncle, a sweet person, dedicated and passionate with his work and all around super-cool idol. The juniors look up to him. NEWS respect him and his colleagues all like him. What's not to like about Keii-chan?
His personality is endearing. He is loved by everyone and yet, he works hard. I don't know anything that I could say about Keii that I don't really like. Maybe, his look. I am not so fond of it, but in time I grew to love it. And oh boy can he dance. OMG. *___* Aoi inazuma!! I died multiple times at the fancam and to this day its one of my favorite parts of it. HIP ROLL!! HIP ROLL!
From the start, he is really the responsible, chatty and funny guy in NEWS. Though he is not the best looking, he makes you look and notice him. He's really a sweetheart and you can't help but smile with his deep chatter. I loved the fact that he knows that he is the eldest and that he has responsibility over the young ones. Though sometimes he does act like a child ( especially around Shige) I think his open personality is what I love the best.
Koyama to me is what a best friend, and brother should be like. I wish he was my oniichan. <3

pictures
thanks to
tinyangl